We are very happy to let you know that in addition to the both noh 'Takasago & Between the Stones' performances in Kilkenny and Wexford, the production tour will include the Noh Mask Making Workshop of master mask maker, Hideta Kitazawa, who will give a lecture demonstration as part of the project's extensive (2018-2020) 'Getting to Noh' programme of educational and outreach work.
Date: Sunday, 2nd February 2020
Time: 4.30 p.m.
Venue: The National Opera House, High Street, Wexford
Tickets: €12 – Book here!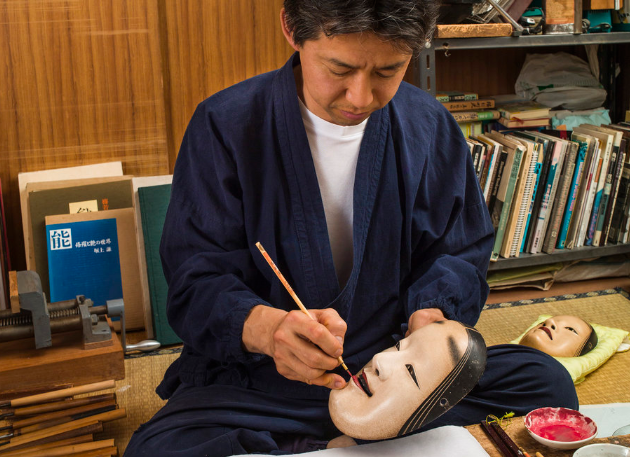 Mask Maker Kitazawa has been making masks for both classical and contemporary noh for more than two decades. He has had a special relationship with Richard Emmert and Theatre Nohgaku for much of this period, and also for the last 10 years with Jannette Cheong.
Mask maker and Shinto Temple carver, Hideta Kitazawa, chose to follow in his father's footsteps and became a second generation woodcarving artist. In 1991, after graduating from the Tokyo University of Agriculture and Technology with a major in Forestry Studies, he went on to begin intensive woodcarving studies with his father Ikkyou Kitazawa. Since then, he has been the recipient of a number of awards, including the 'Outstanding Young Artisan' award.
More information: https://www.nationaloperahouse.ie/whats-on/show/takasago-between-the-stones
Please see official event leaflet HERE!
---
This collaboration is co-produced with Unanico in association with the Oshima Theatre and Theatre Nohgaku and supported by Mitsubishi Corporation and Mitsubishi Electric and the Ireland-Japan Association.
Photos: Betweenthestones.com
https://ija.ie/wp-content/uploads/2015/07/IJA_logo_RGB_low_res_WEB.gif
0
0
ija
https://ija.ie/wp-content/uploads/2015/07/IJA_logo_RGB_low_res_WEB.gif
ija
2019-10-15 13:43:32
2019-12-06 08:45:03
Noh Mask Making Workshop with Hideta Kitazawa | Wexford